Last Chance to Register!!
Join us for Climate Emergency: Montgomery County Responds: A Town Hall focused on Cutting Greenhouse Gases Now
WHEN: Saturday, September 14, 2019, 11:00 am to 1:30 PM
WHERE: Silver Spring Civic Center, 1 Veteran's Plaza, Silver Spring, MD 20910
Global warming has drastically changed our earth, and scientists predict widespread catastrophe if we don't dramatically curb greenhouse gas emissions. In December 2017, the Montgomery County Council adopted Resolution 18-974, declaring a climate emergency and pledging to reduce the County's greenhouse gas emissions by 80 percent by 2027, and by 100 percent by 2035.
Meeting these goals will require radical changes in energy use, transportation and consumption — and tremendous effort from all county residents. Get involved! Learn what you can do. And hear about what progress has been made so far.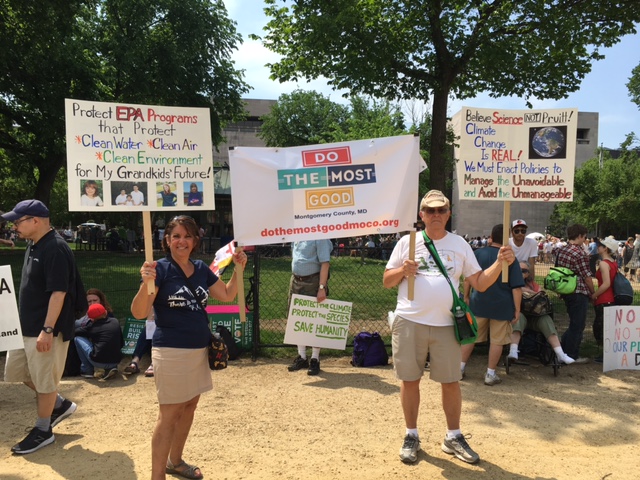 -Hear from climate experts, student and social justice groups, and county officials what we need to do to achieve the goals of the Climate Emergency Resolution!
- Have your questions answered!
- Sign up to work with local groups!
- Get ready to support student groups during their week of climate action September 20 – 27!
Moderator: Jacob Fenston, WAMU Environment Reporter
Featured speakers and panelists:
Marc Elrich, Montgomery County Executive

Tom Hucker, Chair of the County Council Transportation and Environment Committee

Adriana Hochberg, Montgomery County Climate Change Coordinator

Natali Fani-Gonzalez, Montgomery County Planning Board

Danielle J.L. Meitiv, Climate Scientist and Environmental Advocate

Wendy Howard, Executive Director, One Montgomery Green

Naeem Alam, Sunrise Movement

Bill Ragen, Labor Network for Sustainability

Jansikwe Medina-Tayac, Blair High School senior, member of Piscataway Nation, Climate Justice Advocate
Co-organizers:
Takoma Park Mobilization

MoCo 350

80% by 2027 Coalition

The Climate Mobilization

Do The Most Good

Glen Echo Heights Mobilization

Montgomery County Faith Alliance for Climate Solution

Bannockburn Reason for Action

Our Revolution MoCo
Co-Sponsors and Exhibitors:
Action Committee For Transit

Audubon Naturalist Society

Bethesda Green

Biodiversity for a Livable Climate

Chesapeake Climate Action Network

Citizens Against Beltway Expansion

Citizens Climate Lobby

Climate First

Climate XChange

Coalition for Smarter Growth

DMV Climate Action Friends

Don't Widen 270

Energy Justice

Environmental Justice Ministry, Cedar Lane UU Church

Extinction Rebellion

Food and Water Watch

Indivisible Montgomery

Interfaith Power and Light

Maryland Food Council

MoCo Students for Climate

Montgomery County Dept of Environmental Protection

One Montgomery Green

Poolesville Green

Sierra Club - Montgomery County

Sugarloaf Citizens Association

Sunrise Movement